Want to make APP Same thing as WeChat , Can run small programs smoothly ? | Experience will send you to Xinjiang 、 Huawei 、 Cherry keyboard !>>>
JavaScript There are currently two types of data : Basic data types and reference data types .
 Basic data type :Undefined、Null、

Boolean

、

String

、

Number

、

Symbol

(ES6)
 Reference data type :

Object
Whereas ECMAScript It's loose type , There needs to be a way to detect the data type of a given variable . Here are three ways to detect data types .
1、typeof
typeof It's a unary operator , Put in front of a single operand , Operands can be of any type .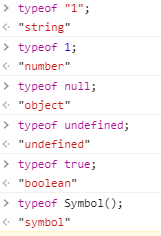 typeof

 

"1"

; 

//

"string"

typeof

 

1

; 

//

"number"

typeof

 

undefined

; 

//

"undefined"

typeof

 

true

; 

//

"boolean"

typeof

 Symbol(); 

//

"symbol"

typeof

 

null

; 

//

"object"
 notes :Null Type has only one value that is 

null

.

null

 Value represents a null object pointer , therefore 

typeof

 

null

 Returns the 

object

.
notes : The following three methods are used to judge reference type data .
2、instanceof
typeof It's a powerful assistant to detect basic data types , Detecting reference types is of little use .instanceof Usually the detection is a reference type . The left operand is the object whose class is to be detected , The right-hand operands are classes of objects . If the object on the left is an instance on the right , Then return to true, Otherwise return to false.
var

 d = 

new

 

Date

();

// adopt Date().........